What other enhancements do you offer?
Monogram Name in Lights
– Wow your guests by branding your wedding by designing your own monogram. You might have your monogram on printed materials like your save the dates, invitations, menu, cocktail napkins, favors, gift bags, …anywhere! But don't stop there… it can now be displayed prominently at your reception too! This bright, crisp, customized image can be projected anywhere you like. Choose a wall or put it on the dance floor! This is the real deal if you want something to pop. You won't have to worry it wont go unnoticed. And it's even available to display in colors!
Multi Media Slide Shows
– Many clients want to show a video or photo montage we can provide the projector and depending on the lay outs we have different video screens to showcase your movie during your reception. Also we make sure everyone can hear everything as well. These slide shows are great for dinner so we typically run the show for about an hour, however other arrangements can be made. Some people choose to switch to having music videos play during the dancing portion. Here are some additional uses for video screens:
Candid Photos throughout your reception and/or wedding day
Presentation of your cinematographer's Same Day Edit (SDE)
Display of your pro photographer's images
Custom presentations for speeches or toasts
Display of shots or live video feed from the photo booth
VIDEO MONTAGE
– You can provide up to 100 pictures in either digital or hard copy form. Your montage will be created with your specifications to the music of your choice. We can scan and color correct pictures if needed. Also we provide you a copy of the montage so you can share with the family.
h1>Music Videos DJ –   Do you want something that none of the other weddings have. You should consider music videos. Most companies cannot provide this because they do not have the extensive library needed in order to perform a full music video show. We have been pioneers at video mixing and have one of the largest music video libraries in the country. By playing music video or ambient video, the screens will act as and exciting, contemporary and visually stimulating compliment to the music.  Video gives your guests an added for element of entertainment, and an extra boost of motivation to get on the dance floor!
Karaoke
– Do you have a family full of entertainers or one willing to embarrass them selves and you want something fun to do perhaps during dinner Karaoke is the way to go. Often time's clients want to have an after party the next day or at a private lounge we can provide the set up for memories to be had. Just ask if it is something you are thinking of incorporating.
Bass Speakers
– Our sound systems are top of the line and will rock any party, but bass speakers allow for a richer sound that makes people want to dance. Often times our weddings our outside and the sound gets carried away in the open space so we have to turn it up, with bass speaker add on's we can keep the volume the same with out losing the sound because it stays more centralized and you can really feel it.
Turntable package
– The turntable package is a fun look to add to any wedding. It allows us to set up a special table that will be up light and guest will really be able to see what is going on. It makes for great photo ops for the bride and groom to come behind the Dj booth and take a few fun pictures or perhaps grandma scratching on the 1's and 2's. This set up also includes a few extra special dance floor lights as well. Just ask for more information.
Remote location set ups
– Do you need music in a place where there is not power. No Problem we got you covered. Depending on your needs we have both Battery Powered speakers and Generator to handle situations that need more. Places like Ft. Zack in Key West do not have power for the ceremony so this is where our remote systems come in handy.
Up lighting – learn More
Photo Booth – Learn More
Dance floor lighting – Learn More
Dj Façades – Learn More
Ceremony sound system – Learn more
Cocktail Hour sound system – Learn More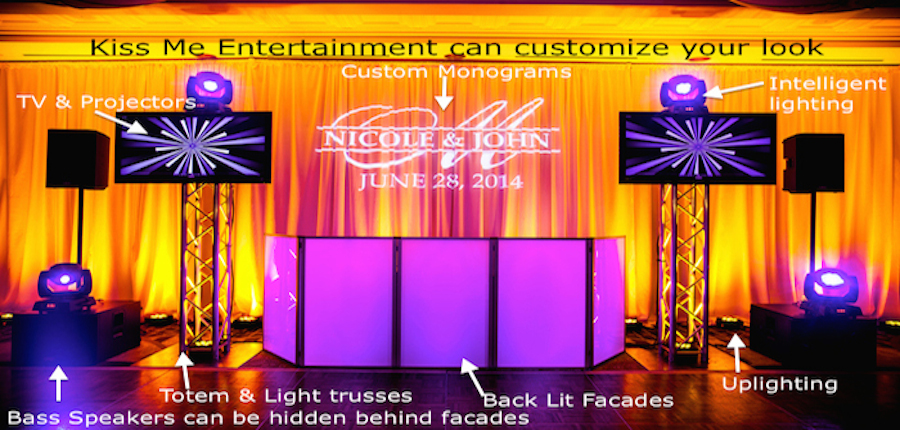 KISS ME Entertainment stands for Keys Island Services for Marriage and Event entertainment. We are based out of the beautiful Florida Keys. We serve all the islands from Key West to Key Largo. We are the premiere event company specializing in weddings, but providing various services for all events.
Copyright © 2014 KISS ME Entertainment. All rights reserved.
Services For Weddings & Events
Site by AP Design.